THE SOURDOUGH JOURNEY IZOLA sourdough is crafted over a three day period, beginning with the team tending to the leaven. The natural leaven is just good ole' water, flour and the local microbes unique to our location in the East Village in San Diego. In place of yeast, the leaven is what will power the sourdough to give it its loft. The team keeps an eye on the growth of the leaven - when it's 2.5-3x in size it's good to go!
On day 2, our sourdough team kicks the morning off with the autolyse step - when a mix of organic high protein flour, whole wheat flour and dark rye are combined with water and we let them chill for a bit before the leaven and salt are added. This allows for the enzymes to start doing their thing and contributes to a more extensible dough.
The leaven and salt are then added to form the final dough. After a short rest, this is when we add the extra flavor bumps - like whole cloves of slow roasted, heritage garlic. Or whole Castelvetrano and Kalamata olives, pecans, fresh lemon zest and herbs de Provence for our Olive Sourdough. Our team hand shapes each loaf, then cold fermented overnight.
Bake Day! The IZOLA bakers score and stencil each loaf, load them into our Salva stone deck ovens and bake them throughout the day so that we can serve them to you hot-from-the-oven. And when the loaves are ready, they must pass our QA check - checking them against defined parameters for minimum length, width and height, target color and interior crumb structure. Hungry for a hot slice of sourdough?? Pre-orders for the week are open now. Have a pre-order and in a hurry? No problem! Double park downstairs and call us at (619) 289-8358, we'll run your order down to you with a smile. We call it IZOLA DRIVE-BY.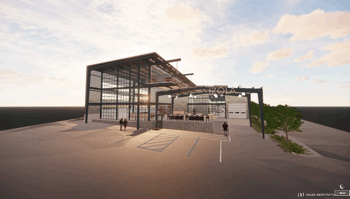 SEE YOU TOMORROW! Join us tomorrow to learn about the state-of-the-art dough innovation center and bakeshop we're building called IZOLA Main. It's the beating heart that will feed a dozen IZOLA Bread Cafes throughout Southern California, plus retail and direct-to-consumer channels. It will be powered by technology enhancements like -
FOOD TECHNOLOGY: We are automating our croissant and sourdough production with cutting-edge equipment from the USA, Japan, Germany + the Netherlands. Our tests show the ability to raise our production by 10-20x and improve our quality.

OPERATIONS TECHNOLOGY: Develop scalable, enterprise-grade technology. My beloved Jenny, co-founder, and powerhouse COO, built the IZOLA Operating System (izOS). It tracks every croissant and sourdough loaf on its multi-day journey from production all the way through the bake so it arrives hot from the oven to your plate every time. Now it's time to rebuild our existing software workflow on a more robust and scalable platform.

ORDERING TECHNOLOGY: We want to make it fun and seamless to order hot croissants. One-click for bread and it will point you to the nearest IZOLA where your hot from the oven order will be waiting for you when you arrive.
WHY? We want to improve our guest experience, enhance wages and the workplace for our team and lessen our environmental impact while increasing our profit margins and the quality of our Croissants and Sourdough. GUIDING PRINCIPLES: We are Justice Driven. For us, that means taking action on Environmental, Racial, Sexual Orientation, Economic, and Gender Justice. It's in IZOLA's DNA...so much so that we added it to our Operating Agreement. Over 400 members of the IZOLA family have already joined us in our equity raise and have become owners in IZOLA. We have now raised over $1.2M solely from the IZOLA community and we are humbled...We still have roughly $3.5M to go to fully execute on the IZOLA Main vision. So join Jenny and me tomorrow, Wednesday September 13th, at 3p on Google Meet to learn more about where IZOLA has been, where we're going and why we're coming to you, our IZOLA community to help get us there.
*Please only invest an amount you would feel comfortable losing. Investing in private businesses involves risk. Though potential returns are designed to reflect that risk, there is a possibility that you will lose your entire investment.
MAKE-A-WISH WINE AND WISHES GALA The Make-A-Wish Foundation of San Diego is celebrating their 40th anniversary this year. Celebrate and support their amazing work at their upcoming Wine and Wishes Gala on Saturday, October 14th. Tickets are almost sold out....
IZOLA MUSIC SATURDAY Every Saturday IZOLA hosts live music - come see how diverse and talented our San Diego community is. We post our full musical line-up every Friday night on Instagram - follow us here!